Wooden windows (Mediniai Langai)
Įmonė turi aukščiausią kokybę liudijančius prestižinius sertifikatus, tokius kaip prestižinių sertifikavimo institutų "IFT Rosenheim" ir "RAL". Pasaulinį pripažinimą pirmiausia leido pasiekti aukščiausia gaminamos produkcijos kokybė, kuriai įmonėje skiriamas išskirtinis dėmesys.
Wooden windows (Trumpai apie medinius langus)
Dear customer,
We want introduce You new generation of wooden windows,
Therm + 92 ( thickness 92 mm )
Energy-efficient windows with the overall glass transfer coefficient Uw = 0.7
Wooden windows Therm +92 (thickness 92 mm)
Wooden windows made in technology stile 92 mm

Squared 4-layer glued

Frame rain canopy Spree24, additionally aluminium drip cap wings

Use of 3-gasket system, including innovative gasket frame

"MACO®" Multimatic fitting with rotary locking bolts

13 mm axle fittings, allows the installation of a much more massive locking elements on the frame

covered hinges on request

standard 48mm glazing, Ug= 0.5 W/(m²KK)

4-coating paint system that perfectly protects the wood against the weather

All elements impregnation before fitting, impregnated plugs
Materials to choose from:
- Pine
- Larch
- Meranti
- Oak
Wood which are produced window- is subjected to a careful selection. Lumber used for windows is carefully dried. All anatomical wood defects- such as knots, turban or twist fibers are removed. The windows Therm+92 frame and sash frame has a thickness of 92 mm and is made of four layers of wood with a properly selected, alternating grain system. Mostly use for windows are pine, meranti or oak.
Energy efficient wooden windows Therm +92 is also due to new construction. An innovative solution is to use two seals, gaskets, brake, and the seal on contact surface Thermo-drip and the window frame. The latter, prevents not only cool air, but also rainwater between sash and frame windows.
Types of wood
Pine Larch Meranti Oak
Wooden windows we can cover any stain paint colours according to standard RAL and NCS palette.
Also we can cover it of acrylic varnishes ( azure paint ) - see below: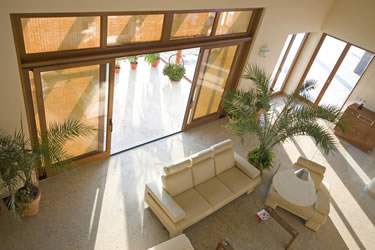 ...........................................................................................................................................